In mid February, my husband and I were blessed to find ourselves in Chilean wine country. On day one, we had an incredible time in the Colchagua Valley, visiting Lapostolle's Clos Apalta and Neyen (gorgeous locations, mouth-watering wine of Carménère and Cabernet Sauvignon). We also had lunch amidst the vines at Vina Montes' restaurant, Fuegos de Apalta. But on day two, we had the pleasure of meeting MOVI (Movement of Independent Vintners) winemakers in the Casablanca Valley.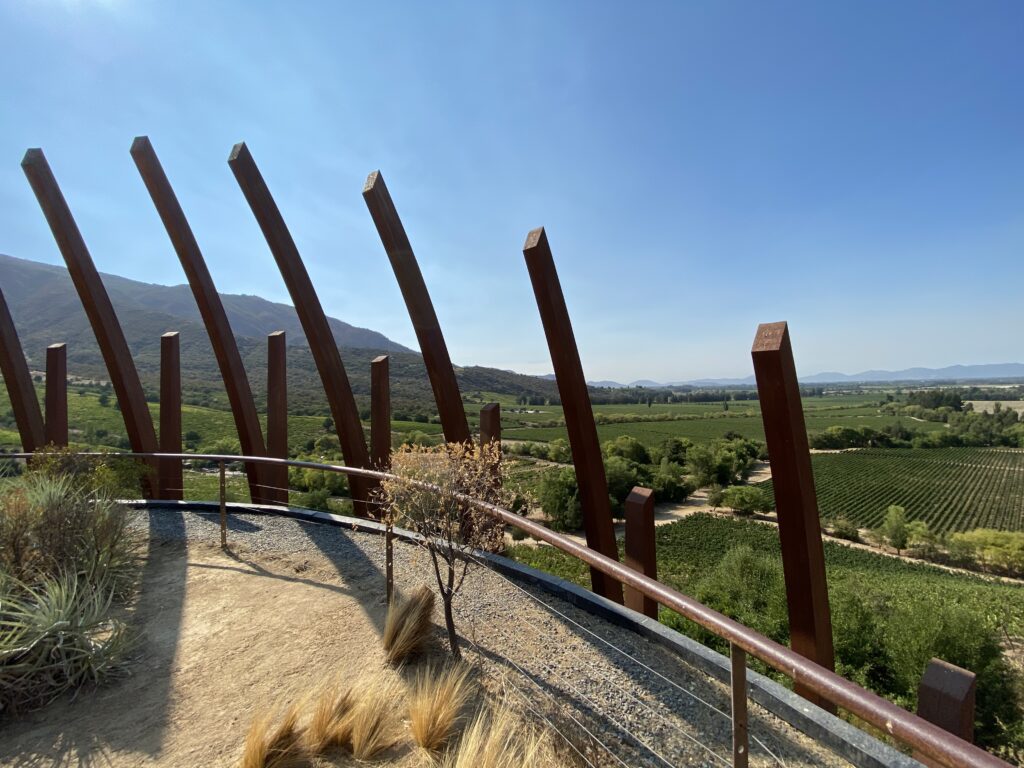 Big producers dominate the Chilean wine industry. In fact, Chile has the largest average winery size in the world (per Wine Enthusiast in 2018). And, according to our guide, Carolina, more than 70% of Chilean wine production is owned by two companies. MOVI is different. These independent vintners run family businesses with relatively small production (from 200 – 15,000 cases per year). As a result, they are agile and have the ability to experiment. Some might call a few of their wines "weird." Wine nerds might call them "exciting". MOVI winemakers also focus intently on quality. And, with less global demand than the well-known behemoths, the value of their wine is incredible.
Casablanca Valley
Our first stop in the Casablanca Valley was Attilio & Mochi, where MOVI winemaker Angela Mochi gave us a tour of the vineyard and production facility. We talked about everything from varietal leaf variations to the benefits of using shipping containers for barrel storage/maturation. Per Angela, "we have no secrets, take as many pictures as you want." And, I did.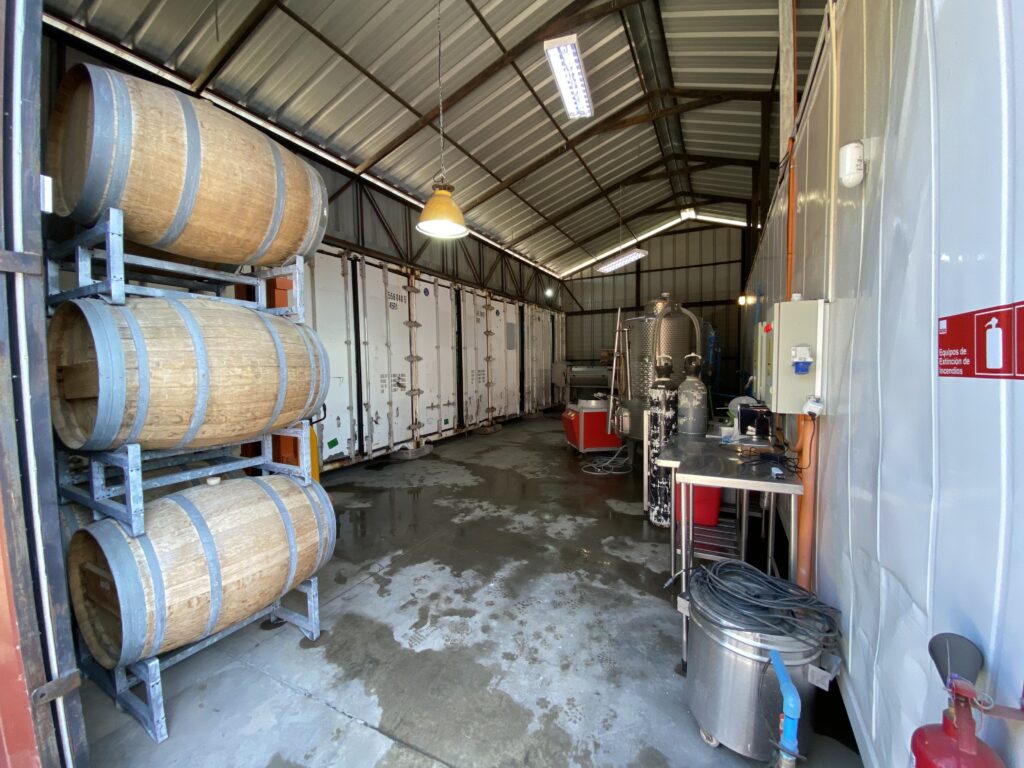 Casablanca Valley is mostly known for white wine, because it is a cooler region. But, MOVI winemakers have experimented with all kinds of red varieties. In fact, at Atillio & Mochi, we tasted Cabernet Franc, Pinot Noir, and several other reds.
After visiting some very large wineries in Colchagua, it was a breath of fresh air to tour a winery that had equipment I could see myself using and a production volume that did not leave me feeling overwhelmed.
Bodegas Re
Our second stop was Bodegas Re. I do not believe that Bodegas Re is a MOVI member. However, this winery is boutique and doing some pretty darn unique and interesting things. First, they still use some 200 year old clay pots (aka. amphorae) for fermentation (note that amphorae can also be used for maturation). During our tour, they explained that sadly, these pots are not very durable, so they tend to break. Over time they have lost many of these pots. Without a way to get more 200 year old pots, they have created their own gigantic clay fermentation vessels.
The second unique thing about Bodegas Re is their blending practices. They say that for their "REdoble" wine, they begin the blending process with the vines. This is the first time I have ever seen a grape vine that has been grafted so that one arm is Grenache and one arm is Carignan. For other wines, Bodegas Re is blending varietals that would cause some winemakers and many consumers to raise an eyebrow. Have you ever had a Syrah/Pinot Noir blend? Other fun blends include their Chardonnoir (Chardonnay/Pinot Noir – most commonly blended in Champagne), Cabergnan (Cabernet Sauvignon/Carignan), and Pinotel (Pinot Noir/Muscatel).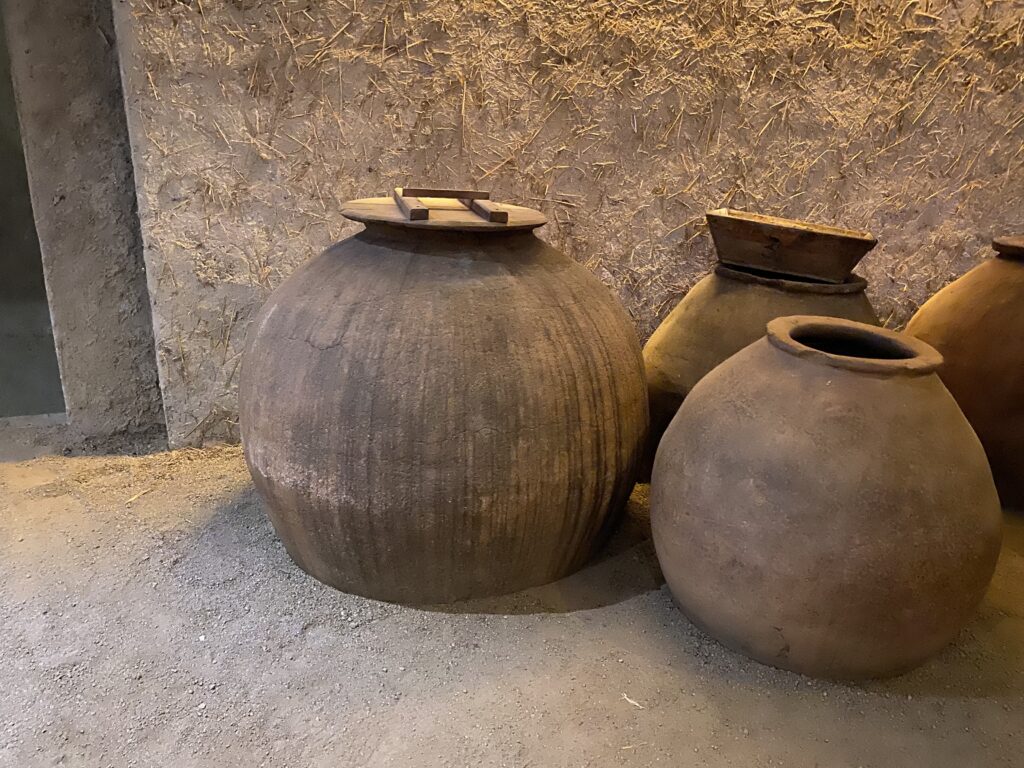 While I don't foresee ever having an operation like Bodegas Re, they still provide inspiration. This winery pushes the boundaries and seeks to reinvent. Like Bodegas Re, I'd like to someday give consumers something surprising, interesting, and delightful.
An Afternoon at Casas Del Bosque and Villard
After our visit to Bodegas Re, we stopped for lunch at Casas Del Bosque, a much larger winery. On a Saturday near the end of the Chilean summer, it was packed…full of both locals and hoards of tourists from cruise ships. So, we tried their wine over lunch and dashed.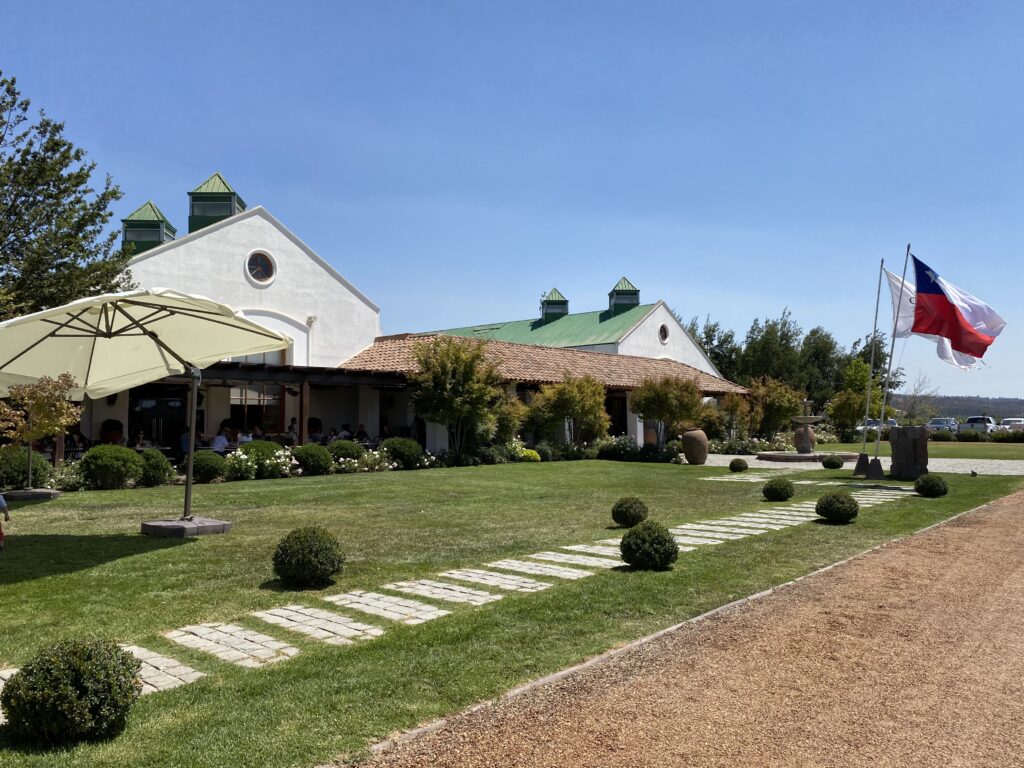 Our last stop of the day was another MOVI winery called Villard. Villard was founded by a French family who set up operations in Chile after finding it to be an ideal place for winemaking. At Villard, we tasted some more amazing wine while overlooking a beautiful vineyard. Drew also made a new best friend (another winery pup).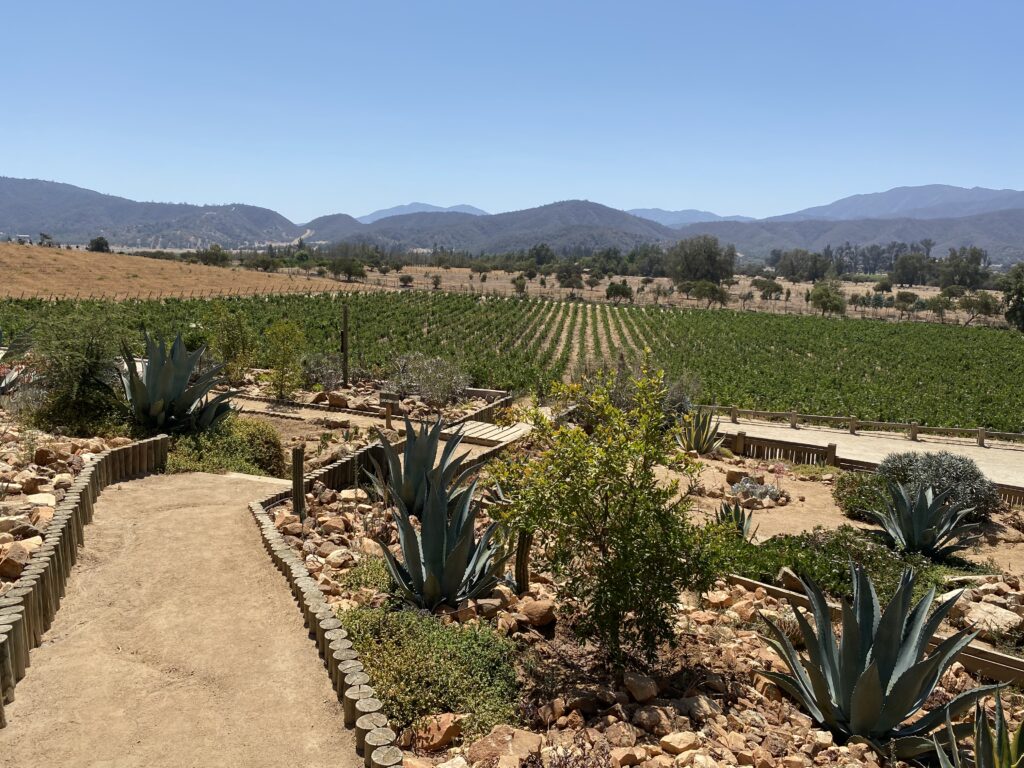 Overall, wine tasting in Chile far surpassed our expectations, and the boutique wineries we visited will continue to inspire me. Cheers to Chile. Cheers to MOVI.